Uniform Day
Uniforms will be on sale this Saturday, 16th September in our studio next to Laura's Schoolwear from 10am until 2pm. Wednesday 20th from 5-7pm and the 7th October from 2-3.30pm
We will also be selling uniforms in Blarney GAA Hall on Friday 22nd & 29th September and the 6th October from 4.15pm – 6.15pm.
Additional uniform days will be announced soon.
Uniforms are not required until the end of October.
Please see the dance timetable below for the uniform code your child should wear, the price list is also outlined.
Uniform Pricelist
| Uniform A | Price |
| --- | --- |
| Pink Leotard with skirt | €30 |
| Pink Cardigan | €15 |
| Peach Leather Ballet Shoes | €12 |
| Uniform B (Ballet) | Price |
| --- | --- |
| Purple Leotard | €22 |
| Purple Wrap Skirt | €20 |
| Purple Cardigan | €15 |
| Peach Leather Ballet Shoes | €10 |
| Uniform C | Price |
| --- | --- |
| Purple Sleeveless Leotard | €22 |
| Black Dance Legging | €20 |
| Black Split Sole Jazz Shoes | €28 |
| Teens | Price |
| --- | --- |
| Black Leotard | €30 |
| Black Split Sole Jazz Shoes | €28 |
| New Zip Hoodie | Price |
| --- | --- |
| Child (S,M,L) | €30 |
| Adult (S, M, L) | €35 |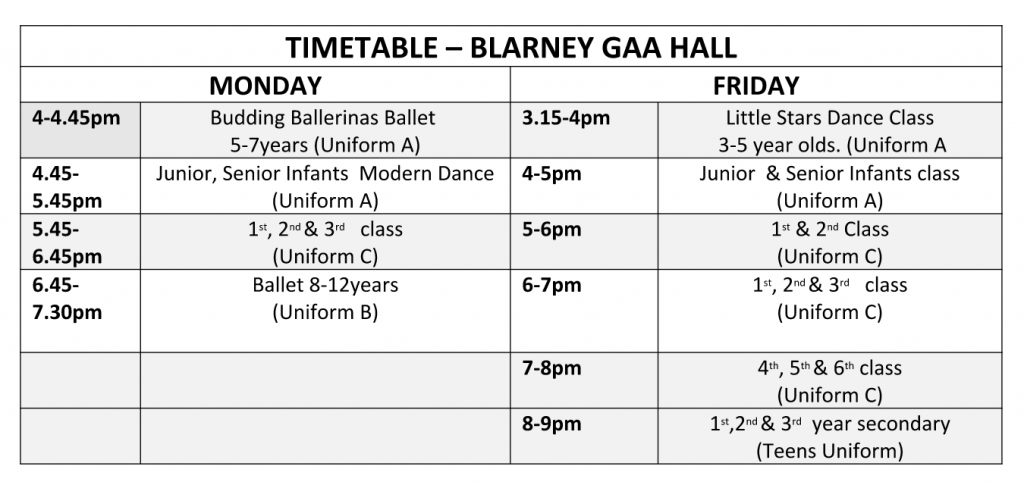 (Click  Douglas timetable to enlarge)