Performances in the Everyman Palace Theatre
In April 2013 we completed our 8th annual pantomime in the Everyman Palace Theatre. These productions give an opportunity to each and every student of the Wolfe Stage School to experience a professional theatre production. Scenery, Sound, Lighting, Stage Management, Costumes and production are areas that are available for our students to experience. A number of past pupils have gone on to pursue careers in these fields after being exposed to them during these performances.
The shows are produced by Declan and Careen Wolfe and written by their brother Aaron Wolfe
2014 – Peter Panto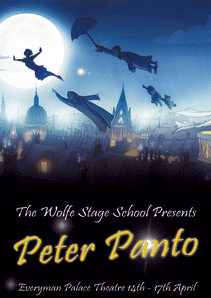 2013 – Clue?
2012 – The Fairytale of Cork
2011 – The Golden Ticket
2010 – Cinderella
2009 – Peter Pan
2008 – Robin Hood
 2007 – Snow White
 2006 – The Fairytale of Cork